KONSELING KELUARGA TERKAIT KESELAMATAN LANSIA DI RUMAH
Asri Handayani Solihin

STIKes Dharma Husada, Bandung
Abstract
Keluarga merupakan sistem pendukung yang penting bagi lansia, karena keluarga menjadi bagian dalam perawatan lansia di rumah, khususnya bagi keluarga di Indonesia. Merawat lansia di rumah dengan kondisi kesehatan yang semakin menurun dapat meningkatkan risiko yang berkaitan dengan keamanan dan keselamatan lansia. Keluarga perlu memahami mengenai risiko bahaya yang dapat terjadi selama merawat lansia di rumah. Tujuan pengabdian masyarakat untuk meningkatkan pemahaman keluarga mengenai keselamatan lansia di rumah. Pengabdian masyarakat dilakukan dengan tehnik konseling terhadap keluarga yang memiliki lansia. Hasil konseling diperoleh beberapa temuan bahwa keluarga belum memahami mengenai keselamatan lansia di rumah serta kendala yang dihadapi keluarga dalam memenuhi keselamatan lansia di rumah. Disarankan keluarga dapat melakukan pertemuan keluarga secara rutin mendiskusikan masalah keselamatan lansia.
References
1. Meiner SE. Gerontologic Nursing. FifthEditi. Vol. (5)2, Elsevier. Missouri: Elsevier; 2015. 285–299 p.
2. Blais R, Sears NA, Doran D, Baker GR, Macdonald M, Mitchell L, et al. Assessing adverse events among home care clients in three Canadian provinces using chart review. BMJ Qual Saf. 2013 Dec;22(12):989–97.
3. Rasero L, Simonetti M, Falciani F, Fabbri C, Collini F, Dal Molin A. Pressure Ulcers in Older Adults: A Prevalence Study. Adv Ski Wound Care. 2015;28(10):461–4.
4. Sari SP, Everink IH, Sari EA, Afriandi I, Amir Y, Lohrmann C, et al. The prevalence of pressure ulcers in community-dwelling older adults: A study in an Indonesian city. Int Wound J. 2019;16(2):534–41.
5. Lang A, Macdonald M, Marck P, Toon L, Griffin M, Easty T, et al. Seniors managing multiple medications: using mixed methods to view the home care safety lens. BMC Health Serv Res. 2015 Dec;15:548.
6. Effendy C, Vernooij-Dassen M, Setiyarini S, Kristanti MS, Tejawinata S, Vissers K, et al. Family caregivers' involvement in caring for a hospitalized patient with cancer and their quality of life in a country with strong family bonds. Psychooncology. 2015;24(5):585–91.
7. Schröder-Butterfill E, Fithry TS. Care dependence in old age: Preferences, practices and implications in two Indonesian communities. Ageing Soc. 2014;34(3):361–87.
8. Kristanti MS, Effendy C, Utarini A, Vernooij-Dassen M, Engels Y. The experience of family caregivers of patients with cancer in an Asian country: A grounded theory approach. Palliat Med. 2019;33(6):676–84.
9. Perrotta F, Corbi G, Mazzeo G, Boccia M, Aronne L, D'Agnano V, et al. COVID-19 and the elderly: insights into pathogenesis and clinical decision-making. Aging Clin Exp Res [Internet]. 2020;(0123456789). Available from: https://doi.org/10.1007/s40520-020-01631-y
10. Daoust JF. Elderly people and responses to COVID-19 in 27 Countries. PLoS One [Internet]. 2020;15(7):1–13. Available from: http://dx.doi.org/10.1371/journal.pone.0235590
11. Cohen MA, Tavares J. Who are the Most At-Risk Older Adults in the COVID-19 Era? It's Not Just Those in Nursing Homes. J Aging Soc Policy [Internet]. 2020;32(4–5):1–7. Available from: https://doi.org/10.1080/08959420.2020.1764310
12. Reinhard SC, Given B, Petlick NH, Bemis A. Supporting Family Caregivers in Providing Care. Patient Saf Qual An Evidence-Based Handb Nurses [Internet]. 2008; Available from: http://www.ncbi.nlm.nih.gov/pubmed/21328765
13. Polit, Denise F. and Beck CT. Nursing Research Principles and Methods. seventh. Lippincot Williams & Wilkins; 2003.
14. Erkal S. Home safety, safe behaviors of elderly people, and fall accidents at home. Educ Gerontol. 2010;36(12):1051–64.
15. Riasmini, NM; Sahar, J; Resnayati Y. Pengalaman keluarga dalam penanganan lanjut usia di masyarakat dari aspek budaya indonesia. J Berk Epidemiol. 2013;4(2):213–24.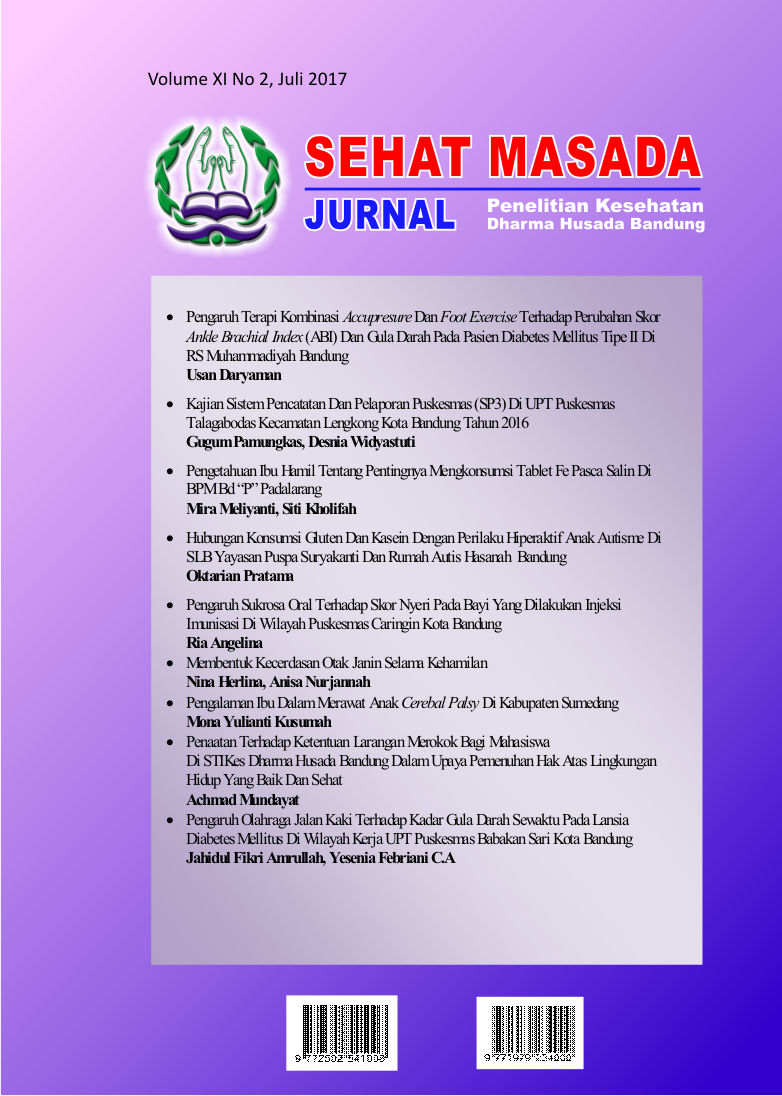 How to Cite
Handayani Solihin, A. (2022). KONSELING KELUARGA TERKAIT KESELAMATAN LANSIA DI RUMAH. Abdi Masada, 3(1), 1-7. https://doi.org/10.38037/am.v3i1.42